This past Tuesday, Andy Reid, head coach of the Philadelphia Eagles announced that Michael Vick will be starting at quarterback.
"Michael Vick will be the starting quarterback for the Philadelphia Eagles," Reid said. "I think his play has even exceeded expectations over the last two weeks. This has nothing to do with Kevin Kolb's injury. He's done a phenomenal job for us here. The future of Kevin Kolb is not slighted by this one bit
." Ok, lets stop and rewind, in November of 2008, Donovan McNabb is
benched for only time of his career in a game at Baltimore when the Eagles were only down 10 at half time, Andy Reid decided to go with Kevin Kolb in second half of what ended up being a 36-7 loss. McNabb comes back and leads the Eagles to the playoffs and helps them reach the NFC Championship game, where they ran into the juggernaut that Cardinals were that year and lost a game in which he played nearly perfect. He threw three touchdowns on his way to 375 passing yards and 97.4 passer rating in 32-25 loss at Arizona. This offseason Andy Reid trades McNabb to a division rival, basically saying he thinks that Kevin Kolb will be better than him this year and in the future. Reid banks the future of the Eagles on Kolb, a quarterback they have had for at the time 3 years, enough time to evaluate every aspect of his game, a quarterback they rewarded with a huge new contract, a quarterback they said was more accurate to handle the west coast offense than Donovan McNabb.
Andy Reid
For the first half of this seasons opening game for the Eagles against the Green Bay Packers, Reid kept yanking Kolb out of the game for plays and getting Mike Vick in, if I am not mistaken, Vick got 8 snaps in the first half. Just before half time Kolb suffered a concussion and Vick took over to start the second half. Vick did very well, leading the Eagles back to within 7 points with about 4 minutes to go.
In the final minutes, Vick got stopped on fourth-and-1 at the Packers 42, it just always seems that the Eagles cannot convert on those third-and-1 or fourth-and-1, but that's neither here nor there. The next week, Vick plays well again and leads the Eagles to a win over the Detroit Lions. Reid cited that reasons for starting Vick over Kolb are offensive line problems and mobility issues. Vick still got sacked 6 times vs. the Lions, the Lions, not the best defensive team by any means. Vick beat up on a Packer defense that did not prepare for him and an improved, but still woeful Lions defense. And now Andy Reid is going with Vick over the quarterback he got rid of McNabb for.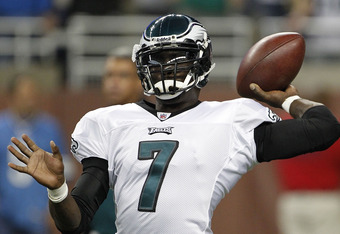 Mike Vick
Now do not get me wrong, I am not saying that it is the wrong move, because I do not know if Kolb is better than Vick. What I do know is that you do not tear up your future plan that you decided on just months ago based on 6 quarters of play that Vick would of not even gotten if it was not for Kolb's injury. I do not know how the Eagles can go back to Kolb, if I am Kevin Kolb I am asking for a trade, the organization betrayed me, they broke the players trust in me, and gave away my job because I got injured. How can Kevin Kolb have any confidence in himself and trust in his coaches now? Kevin Kolb is done in Philly.
Kolb has to be done in Philly
Bottom line is this, the quarterback that should be starting this Sunday for the Eagles, is the same person that is probably sitting back laughing at how all this is going down, and that is Donovan McNabb.
McNabb is your QB Andy